Samsung Refrigerator Prices in Pakistan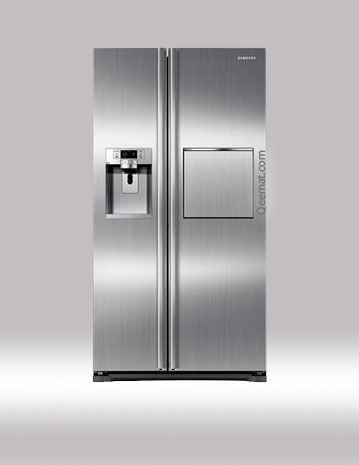 Samsung Refrigerator Prices in Pakistan

Company :

Samsung

Product Type :

Refrigerator

Series :

Side by Side and Top Mount

Number Of Doors :

2

Total Shelves :

7 To 9

Cooling System :

Multi Air Flow, No Frost

Year :

2012

Price In Pakistan :

Rs. 66,500 To Rs. 135,000

Colors :

Silver

Display :

LED, Deco Line LED
Prices
Rs. 66,500 (Pak Rupee)
Samsung RT34GKTS Refrigerator Features
Multi Flow Cooling System, Chill Compartment
Material Cover Plastic
Materials of Shelves (Wire)
1 Fruit and Vegetable drawer
2 Shelves
3 Door Pockets
1 Dairy Compartment
Interior Light
Display & Control mechanical
Cyclopentane Insulation
Prices
Rs. 72,000 (Pak Rupee)
Samsung RT37GKTS Refrigerator Features
Multi Flow Cooling System, No Frost
i-Cool
76 Liters Freezing Capacity
1 Fruit and Vegetable drawer
2 Shelves
3 Door Pockets
1 Dairy Compartment
Interior Light
Display & Control mechanical
Cyclopentane Insulation
Prices
Rs. 81,500 (Pak Rupee)
Samsung RT41JSTS Refrigerator Features
Multi Flow Cooling System, No Frost
Perfect Protection (Chilled Room)
Egg Container
Optimal Crispness Guaranteed
Tempered Glass Shelves
Silver Nano Deodorizer
1 Dairy Compartment
Deluxe Guard
Cyclopentane Insulation
Prices
Rs. 86,500 (Pak Rupee)
Samsung RT45JSTS Refrigerator Features
Multi Flow Cooling System, No Frost
Perfect Protection (Chilled Room)
Egg Container
Optimal Crispness Guaranteed
Tempered Glass Shelves
2 Fruit and Vegetable drawer
2 Gallon Door Storage
(4 Star) Freezer Rating
2 Freezer Drawer, 2 Door Pockets
Prices
Rs. 125,000 (Pak Rupee)
Samsung RSA1NTTS Refrigerator Features
Fridge & Freezer Drawer
Big Top Guard
Deli Box
White LED Lighting
No-Frost Technology
Multi Flow
Smooth Look without Hinge
5 Tempered Glass Shelves
193 Liter Net Freezer Capacity
Prices
Rs. 135,000 (Pak Rupee)
Samsung RSA23DTPE Refrigerator Features
Minimalist Design
Deco Line LED Display
Flat & Flush Door
Door alarm (2 minutes) Avaialble
Tall Dispenser
Multi Flow
W-Option with BRITA Pure Water
5 Tempered Glass Shelves
159 Liter Net Freezer Capacity
Samsung Refrigerator Review
One simply cannot deny having a lovely home appliance that looks and works great. And we are talking about none other than Samsung refrigerators. On the very first look, you are simply going to adore the design and the use of material in and around the body. Whether you are looking at the side-by-side body type or a generic two-door freezer and refrigerator design, you are going to love it. Then having a peep on the Samsung refrigerator price in Pakistan and the prices of other competing brands, you will have a feeling that love on first sight is really enchantingly perfect. Too much in too little it is.
Right off the bat, the cooling of the entire range is amazing. Each compartment does what it is meant to do. One way to test a freezer's working is to put ice cream in it and see how it works out. And guess what, Samsung refrigerators passed the test brilliantly. The ice cream was rock frozen even when the refrigerator was turned off for over an hour. Coming down to the refrigerator, the deli compartment, vegetable and fruit box and other sections, all have been meticulously designed to keep everything fresh and odor free. Even after being there for hours, the smells of different products won't mix. This means, you can have your favorite caramel pudding right where you have leftover pizzas from last night. With this price in in Pakistan, it is definitely a treat!
The interior compartments in the entire range have been intelligently designed to accommodate a lot. Compared to the previous models of Samsung refrigerators, the new models are wider and deeper letting the entire family get the most out of their home appliance. This does not mean that you will have shallower compartments. The compartments are still tall and wider than you think. In addition, the bottle pockets on the doors and egg trays hold enough for even a large family.
One of the key features that identify Samsung refrigerators from the rest of the line is its energy star compliant energy consumption system. Without an inch of exaggeration, this refrigerator does take care of your electricity bills. The body is made to hold its internal cooling and the parts that run the entire fridge are made from high quality materials that make sure that no energy is lost without any advantage.
Overall, Samsung has come with a strong impact on the entire electronics world, with perfection in every inch of its product.