Toyota Hilux 2009 2010 Prices in Pak Rupee with Pictures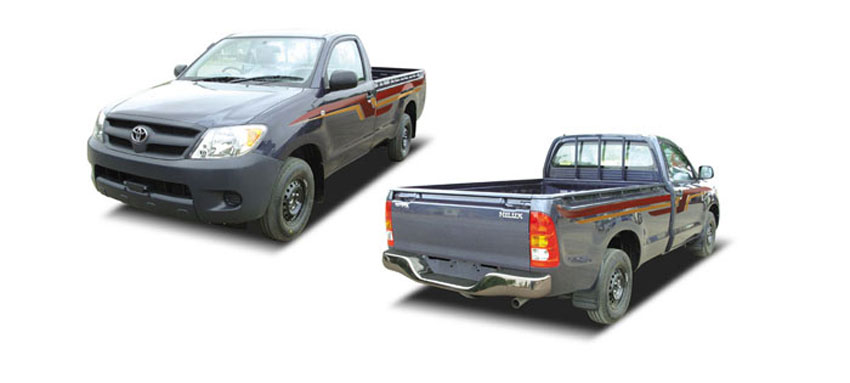 Toyota Hilux 2009 2010 Prices in Pak Rupee with Pictures

Company :

Toyota

Model :

Hilux

Year :

2009-2010

Price In Pakistan :

Rs. 1,459,000 To Rs. 2,004,000

Engine Type :

5L-E

Colors :

Metallic and solid

Body Type :

Cab

Transmission :

5 Speed Manual

Fuel System :

Electronic Fuel Injected

Fuel Tank Capacity :

76 Liters
Toyota Hilux Prices

Hilux 4×2 Standard Price in Pakistan

1,459,000 (Pak Rupee)

Hilux 4×2 Up Spec Price in Pakistan

1,499,000 (Pak Rupee)

Hilux 4×2 Grand Cabin Price in Pakistan

2,004,000 (Pak Rupee)
Toyota Hilux Review
In Pakistan, everyone wishes to run his own business that may be of electronics products business, dealing in clothes, making machinery or selling goods and services. For buying and purchasing of such things it requires vehicle for transportations of such heavy things within cities from one place to another. Therefore, meeting the needs and demands of people in the country, Toyota being the top rated market Company has introduced a new 2009 Pickup or double cabin to ensure transportation of goods quite comfortably.
Toyota Hilux is coupe cabin with powerful engine. It is powered with 1300cc 5L-E Engine Type that can run miles off with 76L Fuel Tank Capacity in it with over all 1,535kg Curb Weight of the vehicle. It is made for the roads of Pakistan as it can carry lots of weight and bear the bumps and humps of rural areas. It is suitable for carrying luggage on small roads. It will be Available in two colors (metallic and solid) for you. As far as controlling system is concerned, it has an excellent suspension system with good braking system on both rear and front sides. It has seating capacity of 3 people at the front. This brand of Toyota Hilux is also available in double doors with lesser carrying capacity on the back in 2009 and 2010 models.
The interior and exterior is beautifully modified and designed with blend of features to give a nice look and comfortable sitting inside it. The back cargo space is quite big to load huge stuff on it. The interior has normal quality dashboard that comfortably adjust the persons inside. Indeed, it's a full fledge working vehicle to assist you on every way you go.
Toyota Hilux Features
1,300cc Displacement
5,255 x 1,760 x 1,680 Dimensions
1,535kg Curb Weight
76L Fuel Tank Capacity
Front Fog Lights
5L-E Engine Type
Dual Zone Automatic Climate Control System
Foldable Rear Seatbacks
1,510mm Tread Rear
5 Speed Manual Transmission
Electrnic Brake Force Distribution (EBD)
Cruise Control System
EFI Fuel system